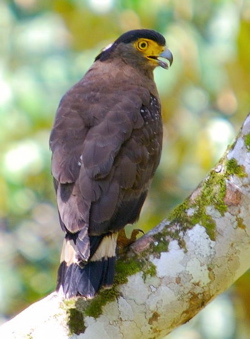 "True to its name, the diet of the Crested Serpent Eagle (Spilornis cheela) (left) consists mainly of snakes… and lizards. My observations of their feeding habit has been that they are not very particular, as in it being freshly killed. Meaning that snakes that had been run over by cars are also acceptable. I have observed this while driving from Sedeli Besar to Tg. Balau in Johor, Malaysia, on the remote coastal road. The bird would be perched high up in a tree patiently watching the road. I have also taken a picture of the bird standing on top of the telephone pole at Sedeli Besar, staring into the horizon and on the road for sign of food.
"At Tabin Wildlife Reserve, Sabah, I have seen the bird slowly walking along the track, looking under the bushes, or along the edges of the garden at the resort proper, inspecting the undergrowth for snakes and lizards.
"But the best encounter comes from Connie Khoo in Bukit Mertajam. While walking alone along the forest patch, she was hit by this loud flapping of wings. She was overcomed as well as stunned by the sight of the raptor carrying a snake of about three feet long. The snake was still alive and was trying to fight back by biting the armour-plated feet of the bird. Once back on its perch the bird started to attack the snake by biting and ripping it apart (above). It was good that Connie was able to regain her composure to capture these valuable scenes for us to enjoy."
K C Tsang
1st June 2007
Top image by KC, bottom images by Connie Khoo.
---
Related posts:
White-bellied Sea Eagle: Fishing The White-bellied Sea Eagle (Haliaeetus leucogaster) is a great fishing...
White-bellied Sea Eagle: Not just a fishing expert "On May 1st, I was at Tekek Village at Pulau...
What do kingfishers eat? Although they are called kingfishers, not all kingfishers eat fish....